Our private bespoke tours of Old Quebec are tailored live. Most of the time, the content and itineraries are designed on the spot according to the clients' pace, interests, etc. Occasionally, some research work is done in advance, as is the case for Robin Boger, who is searching for her ancestors who passed through Québec City & Lévis in 1866.
Tours Accolade was tasked with tracing their journey through Québec City and providing Robin with an understanding of what her ancestors had seen and experienced.  This included identifying where their ship had likely docked, and which buildings currently standing had been in existence then. This article aims to present a portion of this research.
Using what she knew of her family history – that her grandmother, Cristina Birte Solum and her family had left Drammen, Norway on the barque Askur, and sailed to Québec City in 1866 – we were able to find the passenger list for the ship and the date of its arrival. From the ship manifest, we learned that Christina was listed as being 13.75 years old (the fare increased at age 14) and the number, sex and ages of the other passengers on board. We were also able to locate newspapers from the time (in both French and English) that reported on the ship's arrival, as well other other items of local importance. All of this information served to make the experience much more real for her.
A Journey through Time: Québec City & Lévis in 1866
Coincidentally, 1866 holds significant historical importance for Québec City. It marks the final year of Québec City's status as the capital of the United Province of Canada before it transitioned to becoming solely a provincial capital. It would later go on to become the national capital, but let's set politics aside.
In October 1866, the Great Fire of Québec City occurred, devastating a significant portion of St. Roch and wiping out St. Sauveur. Contemporary accounts estimated that around 20,000 people were left homeless before winter. Robin's ancestors, who arrived in mid-June of the same year, likely left the old capital before this disaster struck.
Only two decades earlier, fires had razed the suburbs of St. Roch, St. Jean, and partially St. Louis. By 1866, these suburbs had already been rebuilt and must have presented an impressive sight.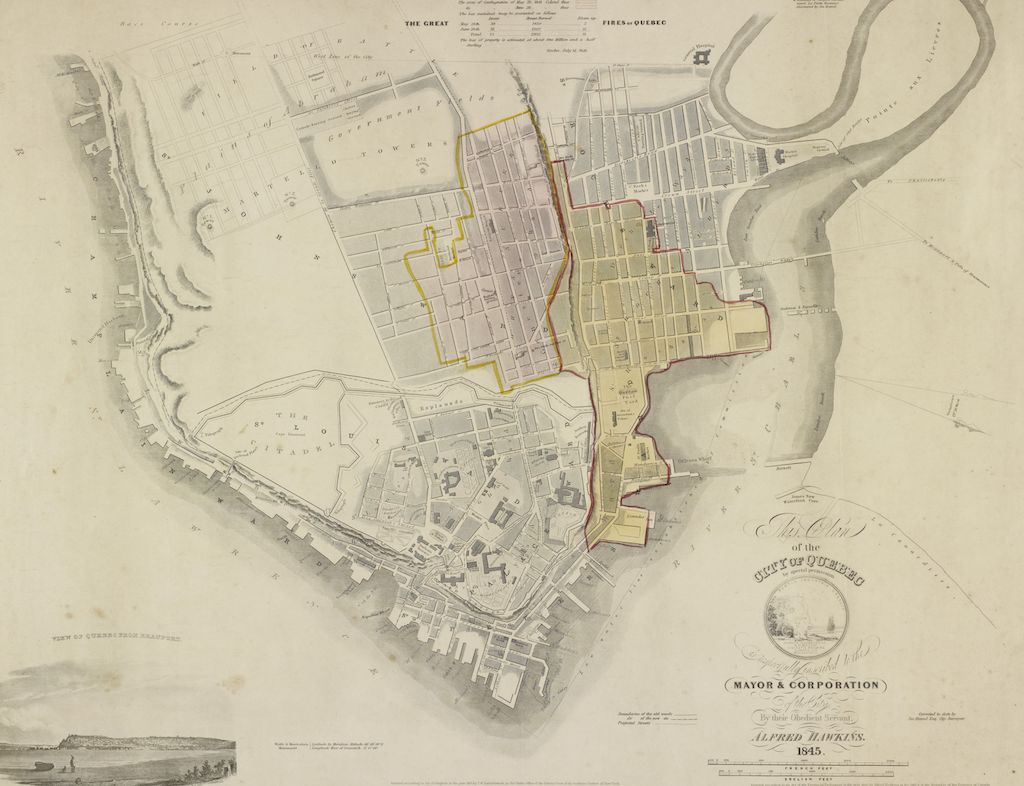 During that time, less than half of the territory had access to running water, at least for a few hours a day. Citizens could send messages via telegraph, but there were no telephones or electricity. Some streets were illuminated by gaslights, and patrolling officers ensured safety. During the day, pedestrians had to navigate through the bustling streets with over 2,000 horses pulling carriages and carts. The streets were predominantly made of dirt, and whenever sidewalks were present, they consisted of wooden planks. As for snow removal, there was still significant room for improvement.
Commercial activity in the city remained intense, but Québec City was still a garrison town with a defensive system that somewhat restricted traffic. The military authorities had to deal with merchants, and vice versa.
Québec City was no longer just an old city dating back to New France; it was increasingly adorned with modern buildings that reflected the architectural trends of the time. Additionally, a new prison was soon to be constructed. The Lower Town continued to expand, with docks extending further into the river.
The dynamic of the city was clearly initiated: Québec City continued to grow, expand, and modernize. However, the dredging of the river had a significant impact, propelling Montreal's growth at a faster pace than Québec City. As a result, it was only a matter of time before Montreal took over as the country's economic center, surpassing Québec City. This shift, to our great pleasure, is actually one of the main reasons behind the preservation of the architectural heritage in the old neighborhoods of city.
As for Lévis, it greatly benefited from the arrival of the train along its shores and continued its rapid growth. It also became fully integrated into Québec City's defensive system, with three forts under construction, serving as a reminder of the delicate peace between the British Empire and the United States, as the American Civil War came to an end in 1865, while Fenians and Russians represented a threat.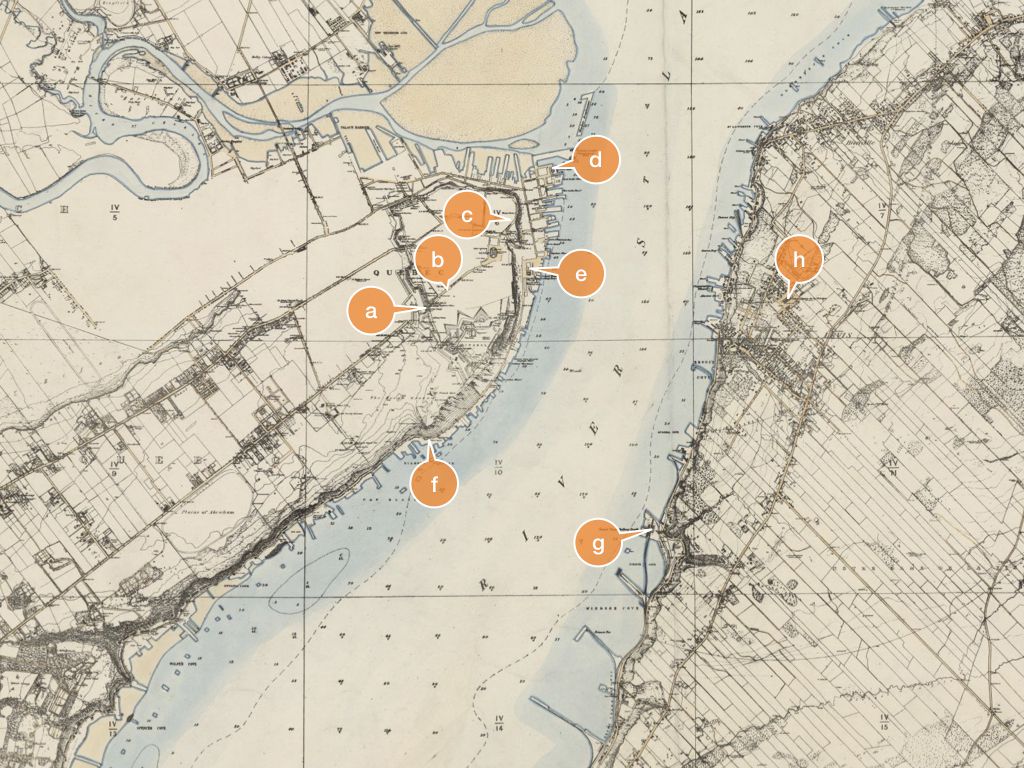 Exploring 1866's Architectural Landscape
Here, we will present you with a sample of buildings of Québec City in 1866. Some have disappeared over time, while others have survived, either evolving or remaining unchanged. However, you won't find the Château Frontenac, Price Building, or the Québec National Assembly in this list, as they are all more recent structures.
Preserved Gems: Architectural Treasures of 1866 Still Thriving
Listing all the buildings that existed in 1866 and have survived to this day, with their various significant evolutions, would be an extensive task. Instead, this selection will present buildings of different architectural styles, uses, and periods.
Jacquet House
Chevalier House
Catholic Cathedral-Basilica Notre-Dame-de-Québec
Anglican Cathedral Holy Trinity
Pavillon Camille-Roy
Durham Terrace
Clarendon Hotel
General Wolfe's Corner
The Telegraph Building
New Québec Custom House
Vanished Splendors: The Lost Architectural Heritage of 1866
Many buildings have been lost over time due to fires, changing needs, investments, and sometimes mistakes of the past. They now exist only in the archives.
Former Breakneck Steps (Escalier Casse-Cou)
Marine Hospital
Old Saint-Louis Gate
Old City Hall
Sts Matthews chapel
Jesuit College
Montgomery House
Saint-Louis Hotel
Marché Champlain
Neptune Inn
Old parlement
Mariners Chapel
Glimpses of the Victorian Era: Uncovering Lévis' Past
You probably already know that I guide in Lévis, and Robin's request has fortunately prompted me to delve into the case of Lévis. Indeed, she specifically asked me to conduct my research on Québec City, with a focus on the train station, as her ancestors may have taken the train. However, in 1866, Québec City did not have a train station. Since 1854, it was located on the other side of the river, in Lévis, in the area of Tibbits' Cove.
In 1866, a total of 28,648 immigrants passed through Québec City and Lévis, while the overall population of Lévis County was below 25,000. Up to 90% of immigrants would actually land in Lévis, sometimes labelled as "Québec South", rather than Québec City itself. Even after the arrival of the train in Québec City in 1879, Lévis would remain a significant landing place.
Among them, a fraction will settle, at least temporarily, in the surrounding areas. The overwhelming majority of them will head west. In fact, various recruiters were active in the sector, enticing this clientele eager for opportunities.
Notre-Dame-de-la-Victoire Church
Tibbits' Cove: First Victoria Hotel and Grand Trunk Railroad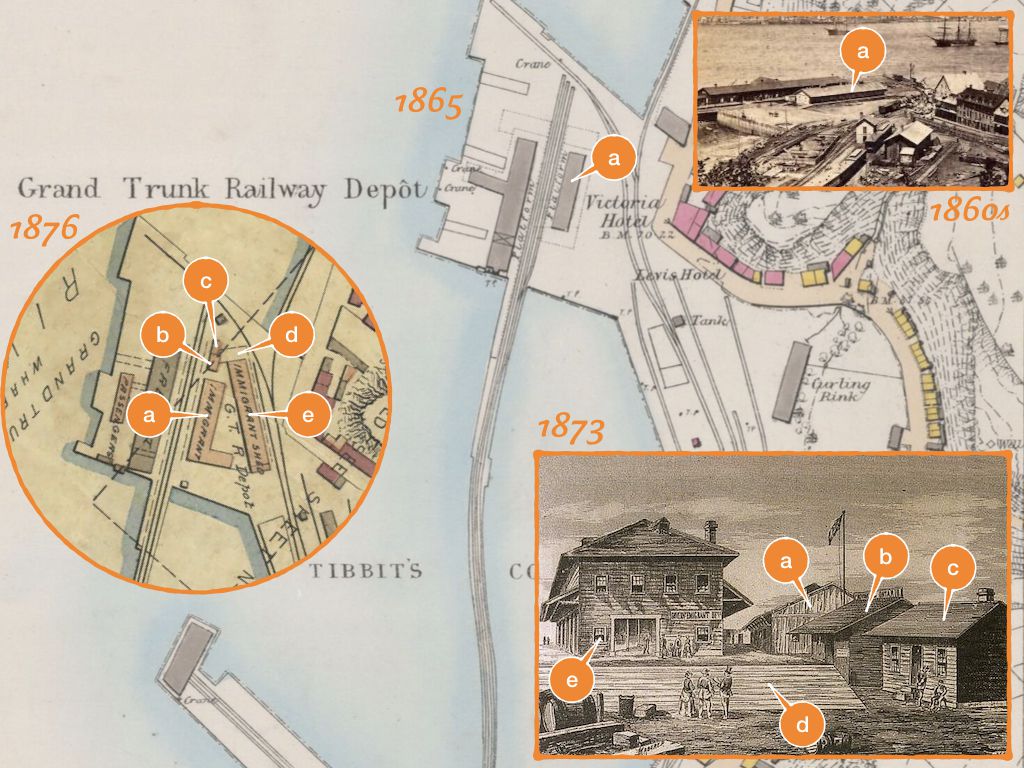 Norwegian Immigration in 1866: A Gateway to the West
1866 appears to be the first year when a massive arrival of Norwegian immigrants is observed in Québec City area. These immigrants had the goal of heading westward. They stayed in the old capital for a few days before continuing their journey. The newspapers of the time provide evidence of this, with dispatches mentioning the arrival of ships, articles describing these new arrivals, and advertisements for the West.
The political context was quite particular, as the colonial authorities were alarmed by the attacks of the Fenians who were conducting raids in Canada. The largest confrontation actually took place less than two weeks before the arrival of the Askur (which arrived on June 13, 1866 with Robin's ancestors): on June 2, the Battle of Ridgeway occurred, pitting around 600 Fenians against 850 Canadian soldiers in the vicinity of Niagara. Although the Fenians eventually returned to the United States where they were disarmed, tensions persisted high and the Province of Canada remained on high alert.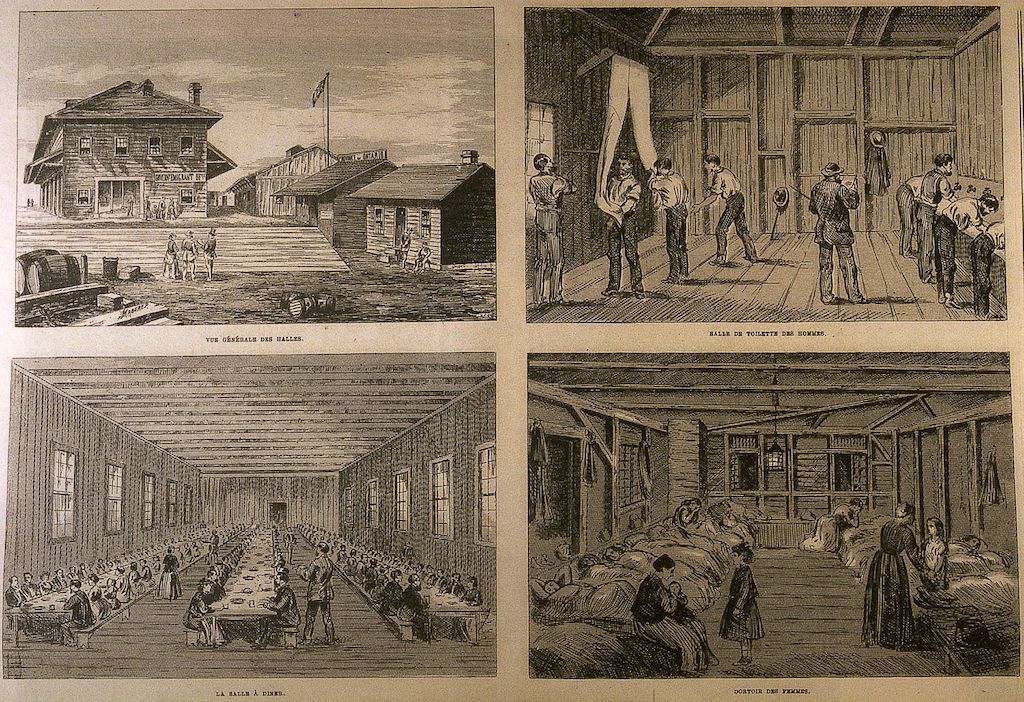 Excerpts and Transcriptions of Noteworthy Articles and News Pieces
Currently, there are approximately 4,000 Norwegian emigrants in the port of Quebec, awaiting the time when they can depart via the Grand Trunk Railway to the West.
Out of this number, around 1,200 to 1,500 take shelter in the temporary accommodations set up at the Quebec- South station, while the others remain on the ships that brought them here.
During the day, they can be seen moving around the streets of the city in large groups. Their healthy appearance and clothing indicate a class of emigrants that is more than ordinary.
According to reliable information we have received, the number of Norwegian emigrants who have passed through the port of Quebec since the opening of navigation, mostly to reach the United States, is 11,000, and an equal number is expected during the course of the summer.


Le Journal de Québec, 13 juin 1866
Mr A. C. Buchanan, the chief emigration agent, has just
published a report on the number of immigrants who have
arrived at the port of Quebec since the opening of navigation
until the 15th of this month. According to this report, our readers will find in another column that 17,245 immigrants have been disembarked on our shores during a period of approximately one and a half months. This figure exceeds last year's count for the same period by 10,315. Out of this number, nearly 11,000 are Norwegians, while English immigrants account for only a small proportion.

Le Journal de Québec, 19 juin 1866
Emigrants to the Western States. FOR SALE, A few hundred acres of carefully selected land for farms in the state of Iowa. A large number of French and Norwegian families have settled in the immediate vicinity. Canadian properties will be accepted in exchange. Please contact WM. A. Curry, real estate agent, Salles d'Agence d'Immeubles, 84, Grand Rue St. Jacques.


La Minerve, 17 juillet 1866, Le Pays 26 juillet 1866 and many other newspapers
Robin's tours
Exactly 156 years, 11 months, and 25 days after the docking of the Askur in Québec City with Christina Birte Solum and her family, I had the pleasure of guiding Robin and her husband through Old Québec and Lévis. We thoroughly explored both the Upper and Lower Towns of this UNESCO world heritage site. It was an opportunity to offer them a personalized private tour, delving into various aspects of local history, visiting the must-see attractions as well as uncovering hidden gems off the beaten path. Our focus, of course, centered heavily on the year 1866. During our time in Lévis, we dedicated most of our visit to Tibbits' Cove, where the train station and immigrant shed once stood, meticulously detailing the locations of the buildings depicted in archive pictures.
I cannot say enough about the diligence, insight and enthusiasm Xavier showed in helping me research the history of my Norwegian ancestors' immigration to Quebec. My initial email contained a formidable request; "I am looking for someone to help me identify the buildings my grandmother would have seen when her ship landed in Quebec in 1866 and find photographs of the city and port from that period." Xavier responded immediately and within a few days had provided me with what became the foundation of my understanding of her travel experience. He sent me copies of historical images and newspapers from that time and, when we met, was able to take me not only to the relevant sights in Quebec but also in Levis.

In addition to being a very nice person and exceptional researcher, Xavier is an excellent guide to the general history of Quebec. He loves history and it shows. We could not have met our objectives for our trip without his guidance and support.

Robin Boger on Google Review
Experiencing the Charm in Person
These photos are truly stunning and allow us to travel through time, offering a unique opportunity to admire buildings that no longer exist. Since 1866, the city has undergone significant transformations, but it has also successfully preserved its undeniable charm and at least part of its heritage. I wholeheartedly encourage you to visit Québec City and Lévis, and experience their captivating essence firsthand.