The goal of our tour dedicated to women history in Old Québec is to answer to one question: why women do not prevail in history? During 2 hour, we discover famous, less known and unknown women, helping us to answer to that question. We try to have a balance between different profiles and time periods in order to get an overview of the topic. We purposely don't bombard travelers with names (and dates) and prefer to focus on the stories and contributions behind those names.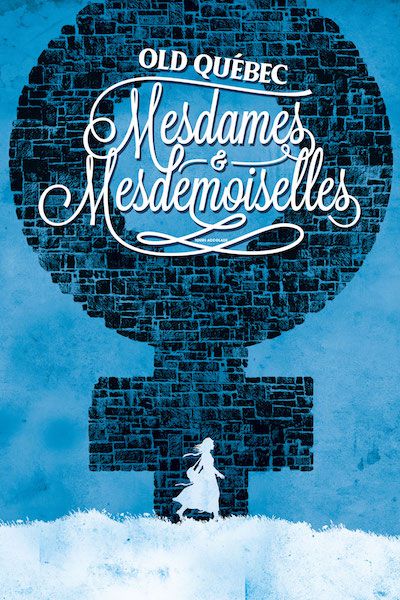 This rhetorical decision helps us to avoid to daze and confuse the majority of our clients. This is, by the way, the same communication strategy for all our tours, except for private tours tailored for academic purpose.
We assume you read this article because you just followed our tour Old Québec: Mesdames & Mesdemoiselles and you're now looking for the names of the women we talked about. Unfortunately, we cannot give you absolutely all the names: some are unknown, some are overwhelming (like listing all the nuns – we'll then give you the name of the orders). As comforting gift, we'll include the names of women and groups of women related to Quebec City or Lévis history that we didn't talk about.
If you read this article while you didn't follow our tour, keep in mind that tour is also about historical concepts related to women history and the evolution of women condition in Quebec Province. The individuals, communities and groups are only one part of the tour.
The list is alphabetical and sometimes includes the husband's name (explained during the tour).
Names of individuals
Angélique Renaud d'Avène des Méloizes (Madame de Péan)
Anne d'Autriche (queen)
Anne Le Cointre de Saint-Bernard (Augustines)
Anne Poulet (trial)
Catherine Morrisson (Russell shipyard)
Dorimène Roy-Desjardins (Mouvement Desjardins)
Élise l'Hérault dit l'Heureux-Livernois (photography studio)
Elizabeth Taylor-Davie (Davie shipyard)
Esther Wheelwright (Ursulines)
Hélène Boullé
Hélènes Desportes
Henrietta Smith (Sewell)
Henriette Barrot Chênevert (architect)
Idola St Jean (suffragette)
Irma Levasseur (doctor)
Lise Ouimet-Payette (minister)
Malvina Racicot-Lépine (funeral company)
Marcelle Mallet (Sœurs de la Charité de Québec)
Marie Fitzbach (Sœurs du Bon-Pasteur)
Marie Forestier de Saint-Bonaventure-de-Jésus (Augustines)
Marie Guenet de Saint-Ignace (Augustines)
Marie Guyart/Marie de l'Incarnation (Ursulines)
Marie Lacoste-Gérin-Lajoie (suffragette)
Marie Rollet (pioneer)
Marie Sirois (diploma)
Marie-Anne Barbel (merchant)
Marie-Claire Kirkland (legislator)
Marie-Josphte Corriveau (legend)
Marie-Louis Hamel-Paquet (Compagnie Paquet)
Marie-Madeleine de Chauvigny-Gruel de la Peltrie (Ursulines)
Marie-Madeleine de Vignerot du Pont-de-Courlay, duchess of Aiguillon (Augustines)
Marie-Marthe Hubert (trial)
Pauline Marois (premier)
Sœur Noyan de Saint-Alexis (Hôpital général de Québec)
Sylvia Daoust (sculptor)
Thaïs Lacoste-Frémont (activist)
Thérèse Forget-Casgrain (suffragette)
Thérèse Lemay-Lavoie (judge)
Names of communities & groups
Augustines de la Miséricorde de Jésus
Augustines de la Miséricorde de Jésus de l'Hôpital général de Québec
Dominicaines missionnaires adoratrices de Beauport
Filles du Roy (King's daughters) (full list here)
Franciscaines missionnaires de Marie
Religieuses de Jésus-Marie
Sisters of St. John the Divine
Sœurs de la Charité de Québec
Sœurs de la Sainte-Famille-de-Bordeaux
Sœurs de la Visitation
Sœurs de Saint-Joseph-de-Saint-Vallier
Sœurs de Sainte-Jeanne-d'Arc
Sœurs dominicaines de la Trinité
Sœurs du Bon-Pasteur de Québec
Sœurs Saint-François-d'Assise
Sœurs servantes du Saint-Cœur-de-Marie
Sœurs servantes du Très-Saint-Sacrement
Sœurs Ursulines
Special thanks
This tour and this article would never have been possible without the work of many historians. Among them, Lucie Desrochers who helped me designing that unique guided tour.
I've also a thought to the various guides and mentors (they will recognize themselves) that taught me a valuable lesson I apply since many years now: sharing dates and names is a cheap way to show our knowledge, it makes us feel good. But in the very specific environment and constraints related to guided tours, this is a technical mistake, especially when we aim historical interpretation.