Millions of Canadians and Americans have French-Canadian ancestry, maybe you're among them. As French-Canadian descendant, when you explore your family tree and follow the locations mentioned for the baptisms, weddings and funerals, you have a glimpse of the presence of this population in North America through centuries. Whether you track down your ancestry to Manitoba, the Great Lakes, New England, Montréal or Acadia, there are often some ancestors from Québec City, the first French permanent settlement on this continent and the capital of the former New France.
Let's explore the institutions, sites and services related to French-Canadian ancestry in Québec City and its surroundings. If you are yourself a French-Canadian descendant, this article will help you to have an insight into their lives and maybe walk in their footsteps.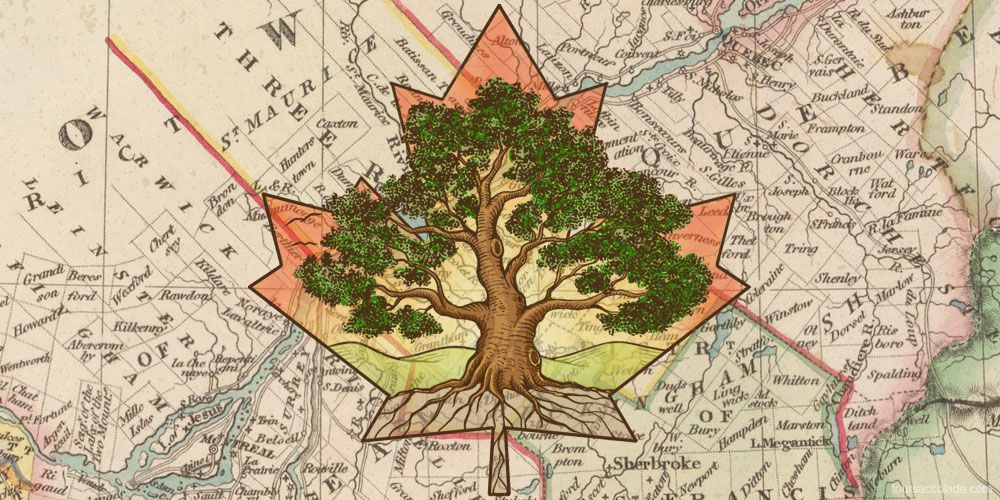 Prepare your ancestry trip
As obvious as it may seem, to discover places linked to your ancestors, you must first know who they are, where they come from, where they lived and where they went.
If you read this article, it's probably because you already have a detailed family tree. Maybe you're confused with the names of the lordships (seigneuries), parishes (paroisses), cities and municipalities, especially because they changed. Among the most useful tools, take a look at:
The Programme de recherche en démographie historique (PRDH-IGD), they have a map of the parishes. Or the more detailed map of Généalogie Québec.
The Répertoire du patrimoine culturel du Québec, in French only. Check "Plaques commémoratives", in "Nom" text area, write the family name you're looking for (sometimes you need to try different spelling), then click on the blue button "Lancer la recherche". Check the results, you should be able to find an address related to the plaque. Et voilà!
Maybe there are holes in your family tree or you need to double-check some information. The best solution is simply to hire a professional genealogist. For example Kim from the French-Canadian Genealogist, fluent in French and English.
Now you know where your French-Canadian ancestors lived (from vague areas to specific houses), you can pinpoint that information on a map and start to build an itinerary. You'll want to visit towns and cities, which is great, but kind of scrawny. Essential things are missing: information, history, and insight!
You're lucky, there are plenty of institutions, sites, monuments and activities related to your ancestry in Québec Province. Here are some ideas in Québec City and its surroundings.
Museums, exhibitions and local attractions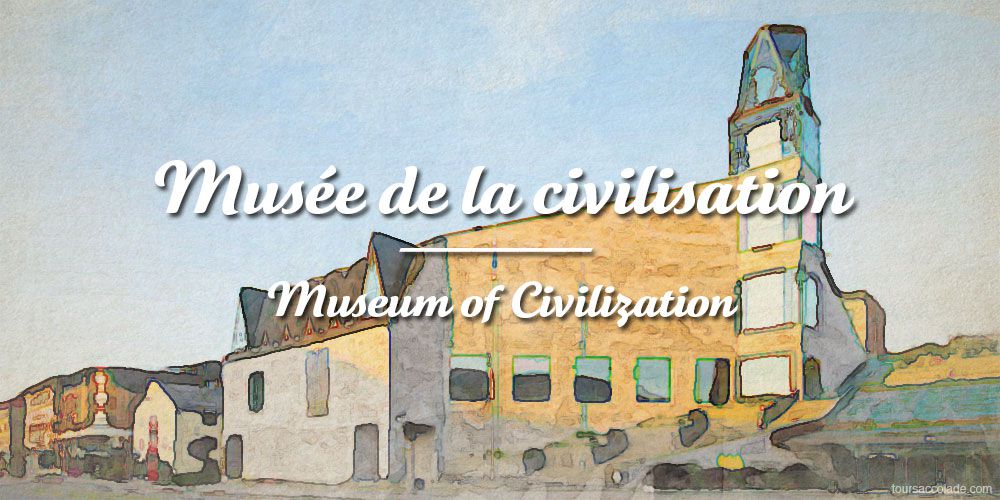 Musée de la Civilisation
Every year the Musée de la Civilisation has fascinating exhibitions. Two of them are permanent and a must-see for French-Canadian descendants:
People of Québec… then and now (Le temps des Québécois). This exhibition "is a journey into the heart of Québec's history and rich culture. Contemporary Québec society reflects the dreams and undertakings of all those who have lived here and helped to create its fabric. It is the history of communities rooted in a territory, whose strategy has always been to preserve their integrity." This is a great introduction to local history, with many artefacts.
This is Our Story (C'est notre histoire) is about Aboriginal population. Even if you think you don't have Indigenous people in your family tree, it's still something to discover, because your ancestors certainly interacted with them. Even if French-Canadian culture is deeply rooted with French culture, it has Native influences.
Plan a half day in that terrific museum.
The Musée de la Civilisation also takes care of the Musée de l'Amérique francophone, currently "mutating". This one is also relevant, it's about French-speaking people in North America. That could be useful to connect some dots.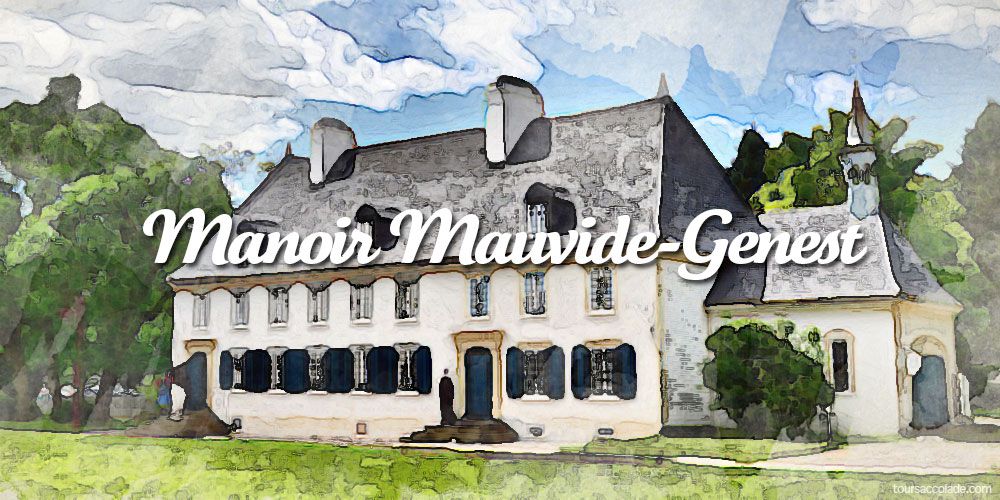 Manoir Mauvide-Genest
Maybe there's a lord in your family tree, maybe not. Nonetheless, the lord was a prominent character back to New France, until the British abolished this system in the mid-1800s. Not all of them were wealthy, but some of them had huge manors. Like the Manoir Mauvide-Genest on the Island of Orléans. The manor is beautifully restored and animated. You'll see there many authentic tools, furniture and so on. This is among the best place to travel back in time with the Maison Drouin.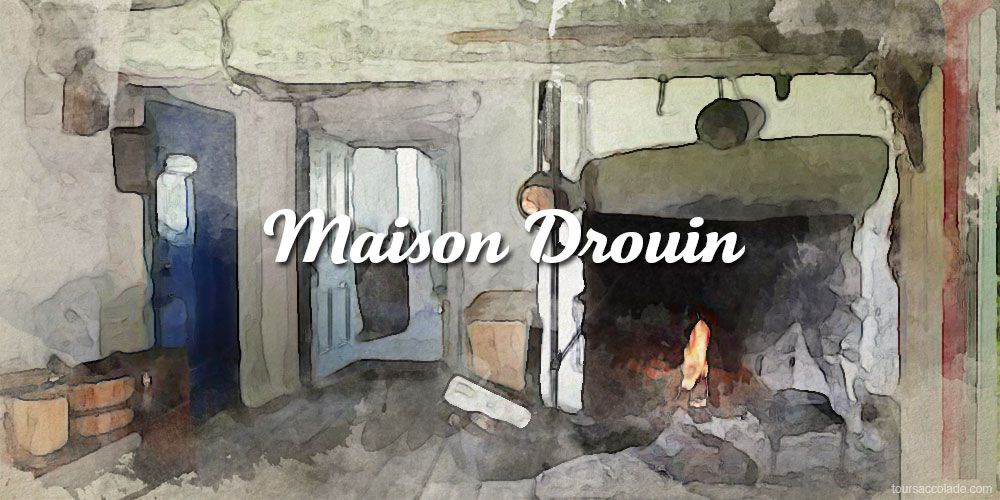 Maison Drouin and Maison de nos Aïeux
The Fondation François-Lamy takes care of the Maison Drouin and the Maison de nos Aïeux, both valuable for an insightful ancestry trip. Located on the Island of Orleans, the first one is a humble 300-year old house, more likely to look like your ancestors' homes than the manor. The second one is an institution that will help you to learn more about the history of the island and its founding families. Some of these founding families could be in your family tree.
Whether you come prepared or not, you'll enjoy that visit.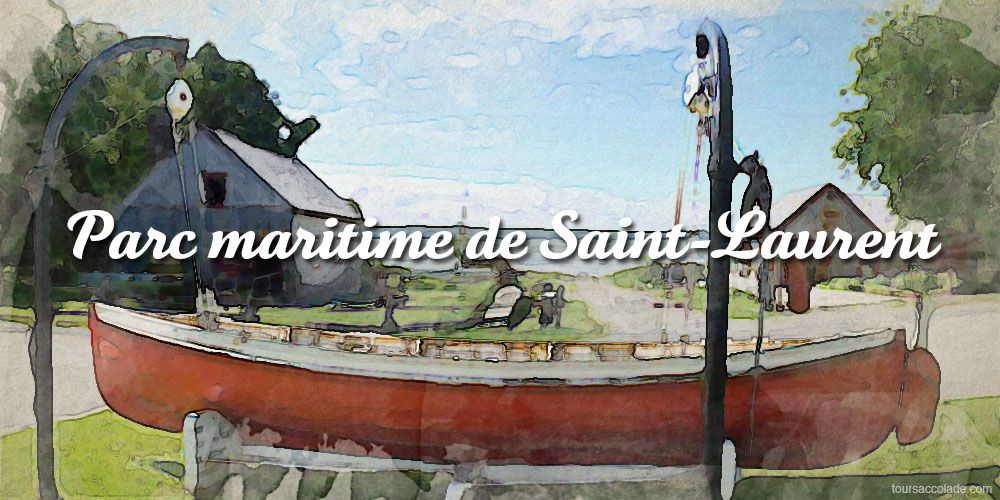 Parc maritime de Saint-Laurent
Back to the 1600s and most of the 1700s, the vast majority of the French-Canadians lived next to the shore of the Saint-Lawrence river. This majestic and huge river was part of their life. Many farmers were also fishing, especially the eel.
Located on the Island of Orléans, the Parc maritime de Saint-Laurent is charming, small and interesting. There's absolutely no reason to skip it.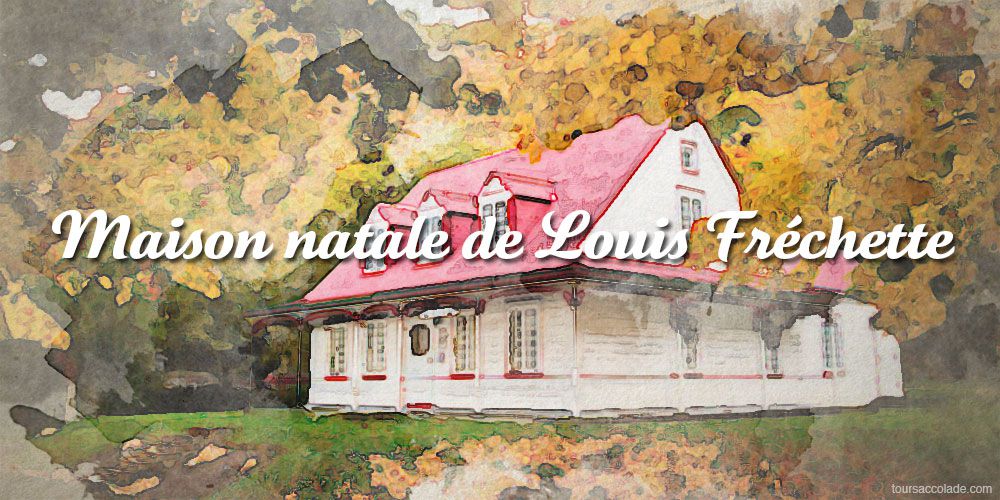 Maison natale de Louis Fréchette
Louis Fréchette is among the most famous poet and author in Québec Province. With his writings, he contributed to the collective memory of the French-Canadians. If you're looking for some poetry in a picturesque scenery, go to the Maison natale de Louis Fréchette. Don't be scared because everything is in French. People working there will be happy to greet you in English, because that's là où les mots rassemblent (where the words gather).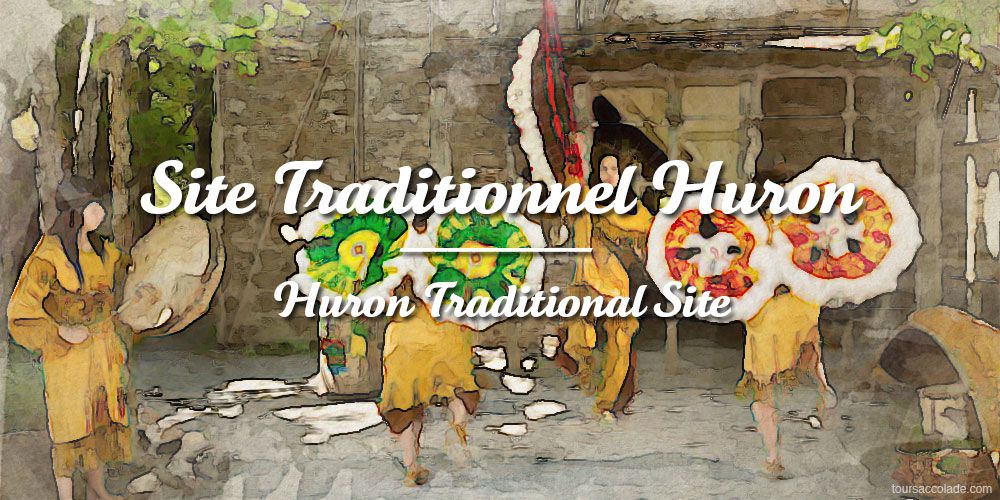 Huron traditional site in Wendake
For the same reason you have to see the exhibition "This is Our Story", you also should consider a visit at the Huron traditional site in Wendake. Content provided is excellent and the site itself is well organized. It's an ideal attraction to understand the complex local history. You'll certainly figure out why many French explorers, coureurs des bois and voyageurs were fascinated and attracted by this culture.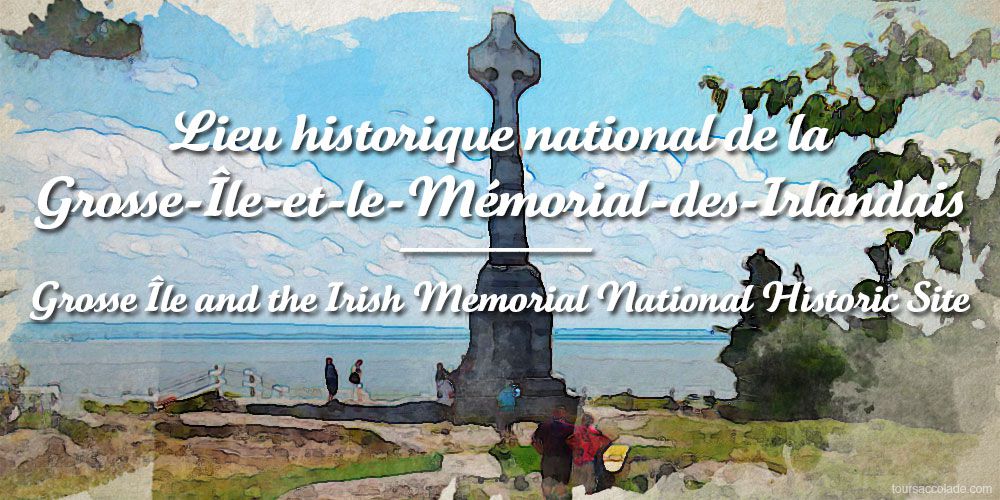 Grosse-Île and the Irish Memorial National Historic Site
French-Canadians and Irish were Catholic. It was common they married each other. For that reason, many French-Canadians have Irish roots. You know the arrival of most Irish in the 1800s was quite tragic. From 1832 to 1937, immigrants, among them Irish people of course, had to spend some time on Grosse-Île, which was a quarantine station.
Parks Canada take care of this island which is now an Irish Memorial National Historic Site.
Activities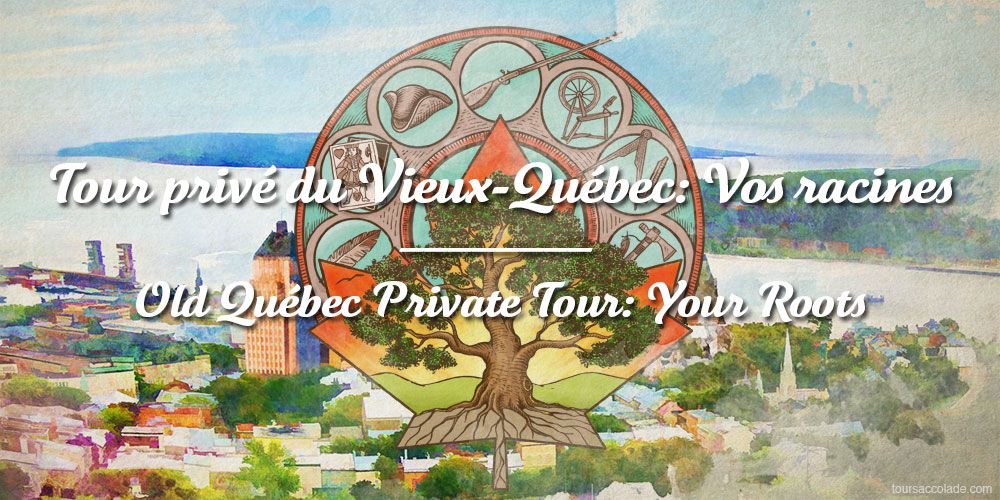 Your Roots Private Walking Tour (Québec City and/or Lévis)
Spoiler: that's the activity I provide and I'm very proud of it.
I'm used to tailoring private tours live in Québec City, Lévis and nearby. This experience though, called Your Roots Private Walking Tour, requires preparation. Basically, the client sends to me the family tree and any relevant information. Sometimes there's a lot of it and I just need to explore it. Sometimes very little and I look at the databases myself. If necessary, Kim, from the French-Canadian Genealogist, can help.
I'm looking for familiar names like first settlers, King's daughters, militia captains, etc. Sometimes I find little gems like trials. I try to understand where the people lived, how the family "moved" in the territory. Especially during key dates and pivotal moments in history. Overall the idea is to connect the dots between raw data and history itself.
Most importantly, I don't only check the father-line or mother-line, I really explore the whole accessible family tree. That's why it's so important to contact me weeks before you come to Québec City. I already provided last-minute tours like this, doing the research late in the evening, but I can't always do miracles.
Finally, it's the time to greet the travelers and to guide them between 2 and 4 hours in relevant places, using the information I analyzed. The tour isn't only about history, it is about their history. Almost abstract names then become embodied figures in the great spectacle of history.
This private tour is definitely a unique experience, especially because among all these activities, sites, attractions and institutions mentioned in this article, this is the only one you get something personally tailored, just for you.
Traditional food
Back to the 1600s and 1700s in Canada, the variety of ingredients was descent, but not as impressive as it is today. No tomatoes, pepper and other exotic fruits and vegetables. Moreover, many varieties were different.
Tragically, it is not clear what the French-Canadians ate through centuries, because we don't have many reliable old recipes and the influence of the British seems to be huge in the 1800s. You also have to keep in mind there's a difference between the daily recipes and the feasts of the nobelry. That's usually the latter we find in the books.
There are restaurants where you can have an idea of the traditional food though. The place to go is certainly the famous restaurant on St. Louis Street in Québec City: Aux Anciens Canadiens. It is a touristy restaurant, but a delicious one. La Bûche, more sugar shack style, is also to consider.
With industrialization and strict regulations, Québec lost too much of its culinary authentic products in the XXth century. While many artisanal productions thrive nowadays, some traditional products come back to life.
That's why if you go to the Island of Orléans, you absolutely have to visit this cheese producer: Les Fromages de l'Isle d'Orléans. Overall, this Island is perfect to taste local delicacies.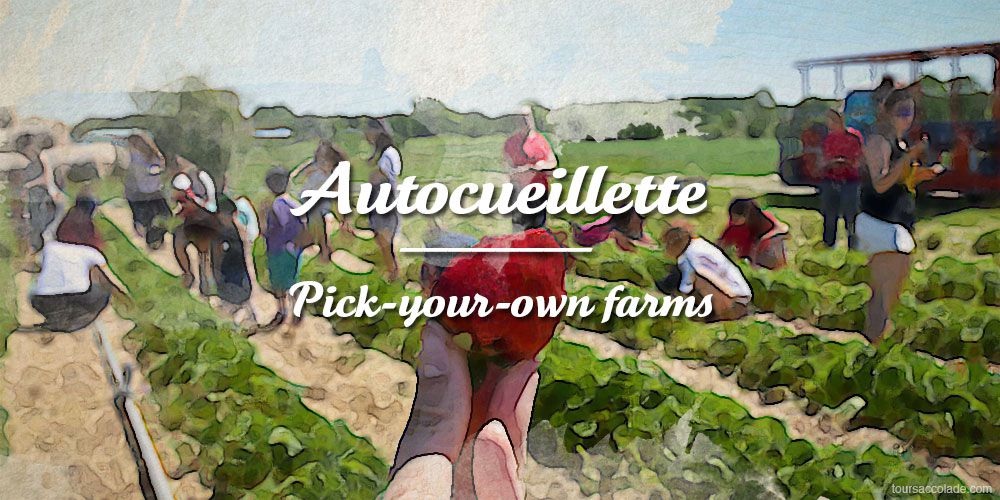 Old fashioned activities
The vast majority of your French-Canadian ancestors were farmers. One aspect of their daily life was the reward of a tremendous work: harvesting.
There are several farms around Québec City were you can pick-your-own fruits and vegetables. Check the list on Autocueillette website. It's in French only, but you'll recognize the fruits available with the images. This activity is a must-do if you travel with your kids.
Of course, don't spend your day there, you'll destroy your back. Just fill one or two trays and enjoy later the most delicious fruits: the ones your harvested yourself.
Centuries ago, people didn't spend their entire life in their town. They traveled quite a lot for business, family or religious matter: fur trade, lumbering, wedding, funeral, pilgrimage, etc. During war time, men from shore of the Saint-Lawrence river could go as far as Pittsburgh (former Fort Duquesne).
They traveled across the country by foot (and snowshoe during winter), boat and canoe.
To have a little foretaste of their journeys, you could go canoeing, hiking or snowshoeing at the Parc de la Jacques-Cartier. Depending on the season, naturally.
Towns and monuments
After having prepared private tours based on the family of many clients, the observation is that there are certain patterns. Names and places come often up, which is not surprising: the community was pretty small back to the 1600s.
Old Québec is, of course, a must see. Using it as starting location, you probably have 4 or 5 directions to consider. Or 2 loops if you have time and if it's relevant. Make sure you take a look at the ancestral homes and churches along the roads. When you stop at a church, always look for plaques and monument nearby. Same for cemeteries.
Here are drafts of itineraries on a map: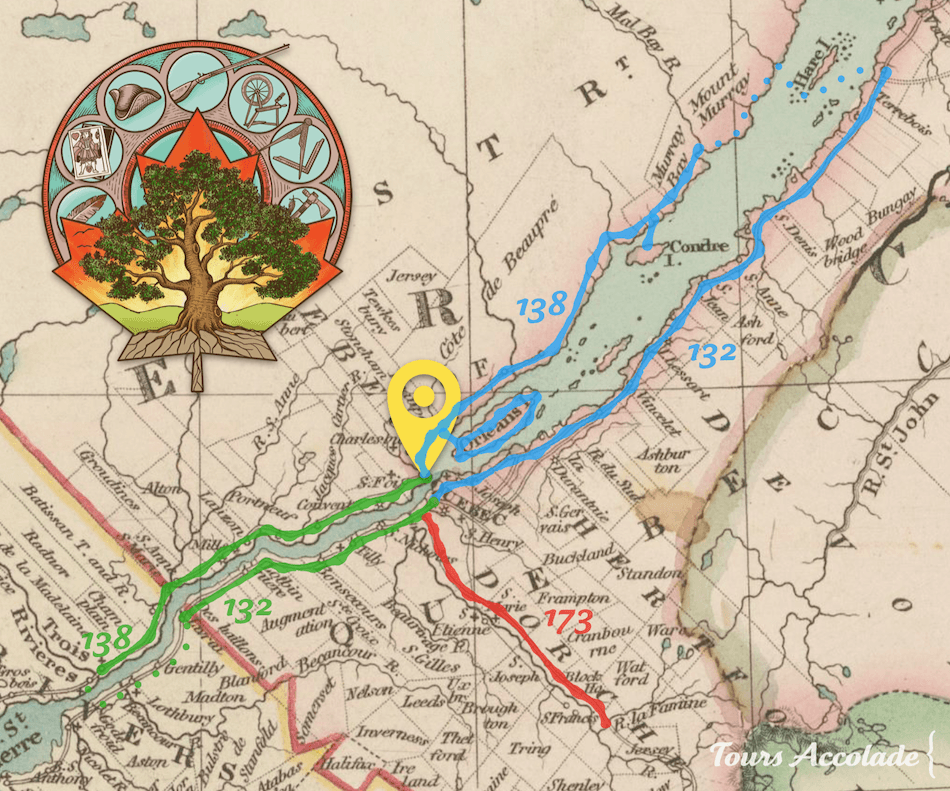 If you would like to know more, here are the names of some villages and municipalities on the map:
Trip West, road 138: Neuville, Donnacona, Cap-Santé, Deschambault, Grondines, Sainte-Anne-de-la-Pérade, Brise-Culotte, Champlain, Trois-Rivières.
Trip West, road 132: Saint-Pierre-les-Becquets, Deschaillons-sur-Saint-Laurent, Leclercville, Lotbinière, Saint-Antoine-de-Tilly, Saint-Nicolas (Lévis).
Trip East, road 138 (Côte-de-Beaupré) and 368 (Island of Orléans): Trait-Carré and Bourg-Royal in Québec City, then go to the Island of Orléans with Sainte-Pétronille, Saint-Laurent-de-l'Île-d'Orléans, Saint-Jean-de-l'Île-d'Orléans, Saint-François-de-l'Île-d'Orléans, Sainte-Famille and Saint-Pierre, then leave the Island (with the same bridge) to reach Côte de Beaupré with Boischatel, L'Ange-Gardien, Château-Richer and Sainte-Anne-de-Beaupré, then Baie-Saint-Paul, Les Éboulements, Saint-Josehph-de-la-Rive if you would like to take the ferry to see the Île aux Coudres, and finally La Malbaie.
Trip East, road 132: Saint-Romuald, Old Lévis and Old Lauzon in Lévis, then Beaumont, Saint-Michel-de-Bellechasse, Saint-Vallier, Berthier-sur-Mer, Montmagny, Cap-Saint-Ignace, L'Islet-sur-Mer, Saint-Jean-Port-Joli, La Pocatière, Rivière-Ouelle, Kamouraska, Notre-Dame-du-Portage, Rivière-du-Loup.
Trip South, road 173: towards Beauce with Scott, Sainte-Marie, Vallée-Jonction, Beauceville, Saint-Georges.
If you're looking for a loop, you can connect:
"Trip West" roads 138 and 132 with Laviolette bridge, between Trois-Rivières and Bécancour. Excluding Old Québec, expect one day minimum if you don't spend too much time on each spot. 2 days with a night in Trois-Rivières is better.
"Trip East" roads 138 + 368 and road 132 with the ferry Saint-Siméon / Rivière-du-Loup. Excluding Old Québec, expect 2-3 days minimum.
We'll stick to manuments and skip the plaques in order to keep that long article… not too long.
The two statues I show quite often to travelers during a private tour "Your Roots" are:
Actually they are the only statues of first settlers in the area. Other monuments are related to people you certainly won't have in your family tree: religious people (no kids), Champlain (no kids), generals (kids in Europe), etc.
Further away from the old city, two monuments could be relevant though: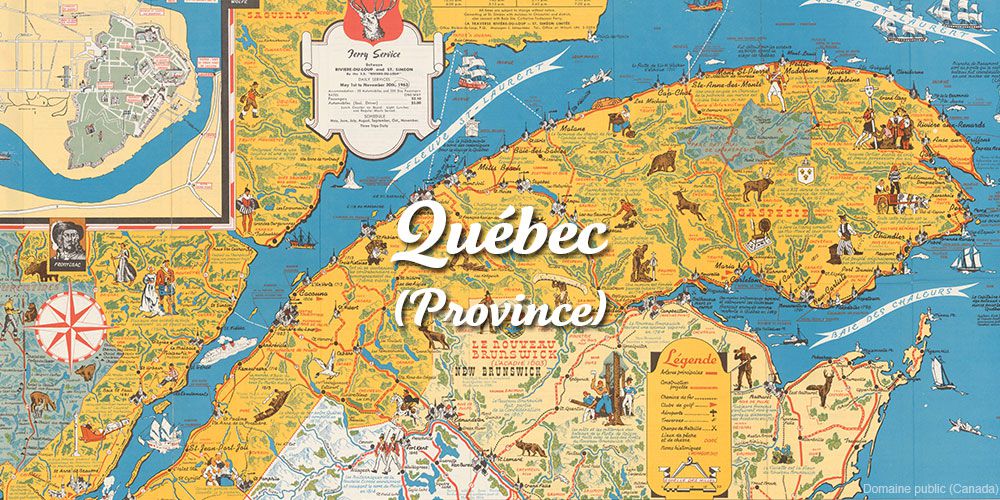 Going further West and East in Québec Province
If you planned to go further West or East and explore Québec Province, there are other relevant sites and attractions you could visit to have an idea of what was it like to be French-Canadian centuries ago.
Maison Saint-Gabriel
Located in an over 300 years old farm house in Montréal, this museum is dedicated to Marguerite Bourgeoys and the Filles du Roy (King's daughters). They have exhibitions and organize several activities every year.
The probability you have Filles du Roy in your family tree is huge. It is therefore one of the most ancestry-related place to visit in Montréal.
Village Québécois d'Antan
Despite the fact you can go to any old town to admire old authentic houses, you have to visit Village Québécois d'Antan. Not only you'll feel you travel in time because of the lack of cars, asphalt and insipid contemporary houses, but they also organize fun activities. It is definitely an attraction to visit with your family.
This reconstituted town recreates a typical environment from the 1810 to 1930. That's the time frame during which hundred of thousands of French-Canadians left nowadays Québec Province to move to the United States and the Central and West parts of Canada. Check in your family tree the last generation that lived in Québec Province, go to the Village Québécois d'Antan and you'll have an idea of what they left behind.
This site is located in Drummondville, which is between Montréal and Québec-City, South of Trois-Rivières.
Musée Pop – La culture populaire du Québec
Check their exhibitions on the official website, sometimes they're relevant with ancestry and the life of your ancestors. It's also a great way to make a bond between your ancestry and the contemporary culture of Québécois.
If you're traveling between Québec City and Montréal, it's also a nice stop. Take the time to visit the Manoir Boucher de Niverville and the Forges of the Saint-Maurice.
Le Village du bûcheron
Less than 1 hour away from Trois-Rivières, there's the Village bûcheron which is a reconstituted lumberjack town. Guided tours are provided by musicians and storytellers. Immerse yourself in the universe of bûcherons (lumberjacks) and draveurs (raftsmen) in French or English.
Val-Jalbert
If you visit the spectacular Royaume du Saguenay (Saguenay Lac St-Jean), travel back to the 1920s in the ghost town Val-Jalbert, now historical village. With exhibitions, guided tours, an immersive show, nature hikes and scenic viewpoints, this attraction does worth the drive.
Site de la Nouvelle-France
Located between Saguenay and Tadoussac, in the small town of Saint-Félix-d'Otis, on the shore of the fjord, the Site de la Nouvelle-France (Site of New France) provides a travel back to the 1600s. Natural site is also a must see. This site will be back in 2022 after major improvements.
Gaspésie
If your family tree leads you to Gaspésie, a peninsula you should visit anyway, make sure you take a look at the exhibitions of the Société d'histoire et de généalogie de Matane (historical and genealogical society of Matane). The fishing bank of Paspébiac is a must see. The Musée de la Gaspésie has a permanent exhibition, the deep blue sea, that is partially relevant.
Many French-Canadians have Acadian roots. On the way to New Brunswick and Nova Scotia, former Acadia, you have to stop at the Musée Acadien du Québec, located in Bonaventure.
Finally, even if you don't find Micmac ancestry in your family tree, your ancestors probably interacted with them. More information at the Micmac interpretation site of Gespeg to learn more about this Nation.
Wrapping up: enjoy an insightful ancestry trip
Your ancestry trip to Québec City and its surroundings will be memorable. Not only the area is picturesque and beautiful, the people charming and welcoming, the heritage gorgeous and well-preserved, the attractions fascinating and terrific, but the trip itself is about you and your ancestry. You'll connect with your family tree!
Sometimes it's a journey in a completely unknown territory, discovery after discovery. Sometimes it helps travelers to understand better some memories they have with relatives.
When I guide my dear travelers during a "regular tour", I see astonished faces when they learn something new, smiles after funny anecdotes… But the only time I see tears, it's during the private tour Your Roots. I don't guarantee you'll cry, but this ancestry trip is going to be the best trip of your life.